EDIT: The cards are all gone! 🙂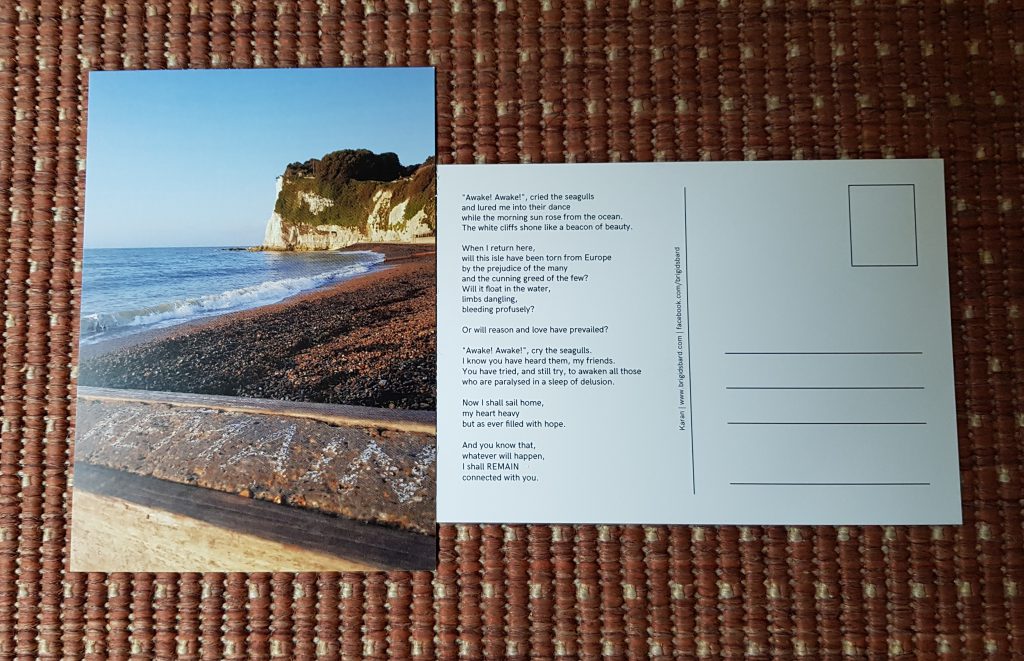 Having received so much positive feedback for my "Remain" poem and photo, I decided to have it made into a postcard.
And I would love to send it to you.
Either one card, which will be sent directly as a postcard, or ten cards in an envelope, which you can share with your to your friends, distribute them in your town, leave them behind in your favourite café, or even send them to your MP. 😉
This offer applies worldwide!
Of course printing and postage won't come cheap, but I don't want to set a fixed price because I am aware that for many of you money is absolutely tight already. Therefore I ask those of you who can afford it to make a contribution to the costs, via PayPal (I'll send you the details).
Any surplus will go directly into the savings I am currently making for the production of my CD of Brigid chants and songs, which I hope to be able to record soon.
If you want to receive my newsletter, which will notify you about this and other activities, please let me know!
If you want to participate, please send an e-mail to brigidsbard "at" gmail.com and let me know the following:

– Name and address:
– One card or 10 cards?
– Donation? yes/no
– Newsletter? yes/no
(please provide an e-mail address for the newsletter)
Of course you may revoke your consent given to the use of your data for these purposes at any time via e-mail to me (brigidsbard "at" gmail.com).
And don't worry if you cannot contribute financially but still want to have the postcard. I WANT you to have it! The situation in England is becoming increasingly dire and I hope you are aware that you are NOT alone! Apart from me, there are many people all over the world who love the British Isles dearly and wish they could do something to help you cancel Brexit and enable you to keep all the opportunities you have enjoyed for so long as citizens of Europe.
Whatever happens, you can rely on our continuous support, even if – as in this case – it is merely poetic.
In love and solidarity
Karan